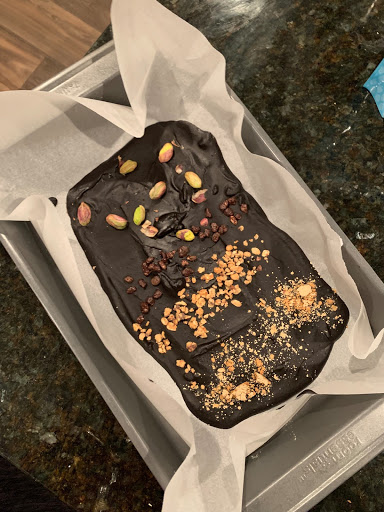 "Healthified" chocolate bark
When I was in my restrictive eating phase all "treats" were OFF LIMITS. I was as strict as you could ever imagine, but that is literally no way to live. I used to think a piece of chocolate was going to "DESTROY my progress", or eating off "plan" was going to make me fail.
NOT TRUE! Not even close.
What I have learned (& now teach my clients) is that all foods are acceptable. One piece of chocolate won't through your progress down the drain…just like one healthy meal won't make you lean.
What I have also learned is…you don't HAVE to eat all the processed junk all the time. Something I have LOVED doing is making "healthier" alternatives to my favorite treats so that I can enjoy treats more often, because let's be real…who doesn't love chocolate? NOONE…(except one of my best friends from high school & I still don't understand! Lol)
I created this "healthified" 3 ingredient "chocolate bark" that takes about 10 minutes total of prep time! Let's jump in because I can sense your anticipation and I don't blame you!
Here is what you will need:
1/2 cup Hershey's dark chocolate UNSWEETENED cocoa powder
-1/4 cup melted coconut oil
-1-2 tbpn sugar free maple syrup (sweeten to liking)
-1 packet truvia OR stevia
***Note: I like mine medium/fair sweet so I add 1 packet stevia -and 2 tbpn sugar free maple syrup!
-1 baking dish (8×8 works fine) OR plate
-Parchment paper
Step 1: Melt coconut oil and pour in small mixing bowl. Add hersheys cocoa powder. WHISK. Then add sweetener packet AND sugar free maple syrup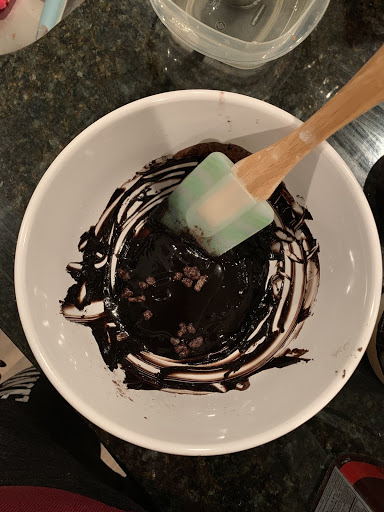 .
Mix until it thickens!

You don't want this super runny but also, not super thick. You want it to be able to pour out of the bowl onto the parchment, but not drip off like a soup.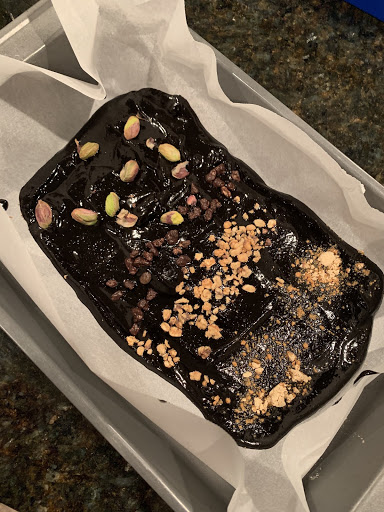 Once mixed and desired sweetness is obtained, lay parchment paper on a plate or baking dish and

pour chocolate on parchment.

Once you flatten it out, add toppings of choice! (I chose pistachios, sprinkled PBFIT and some cocoa nibs.

Place in refrigerator and take out after 3-5 minutes.

Slice into 25-30 pieces!

(I do them small because you don't need much to satisfy your sweet tooth, remember that! Also, smaller pieces= mental satisfaction of being able to have 2 small pieces rather than 1 big one!)
Macros for 30 little pieces:
20 cals .3P /.8C/ 2.1F .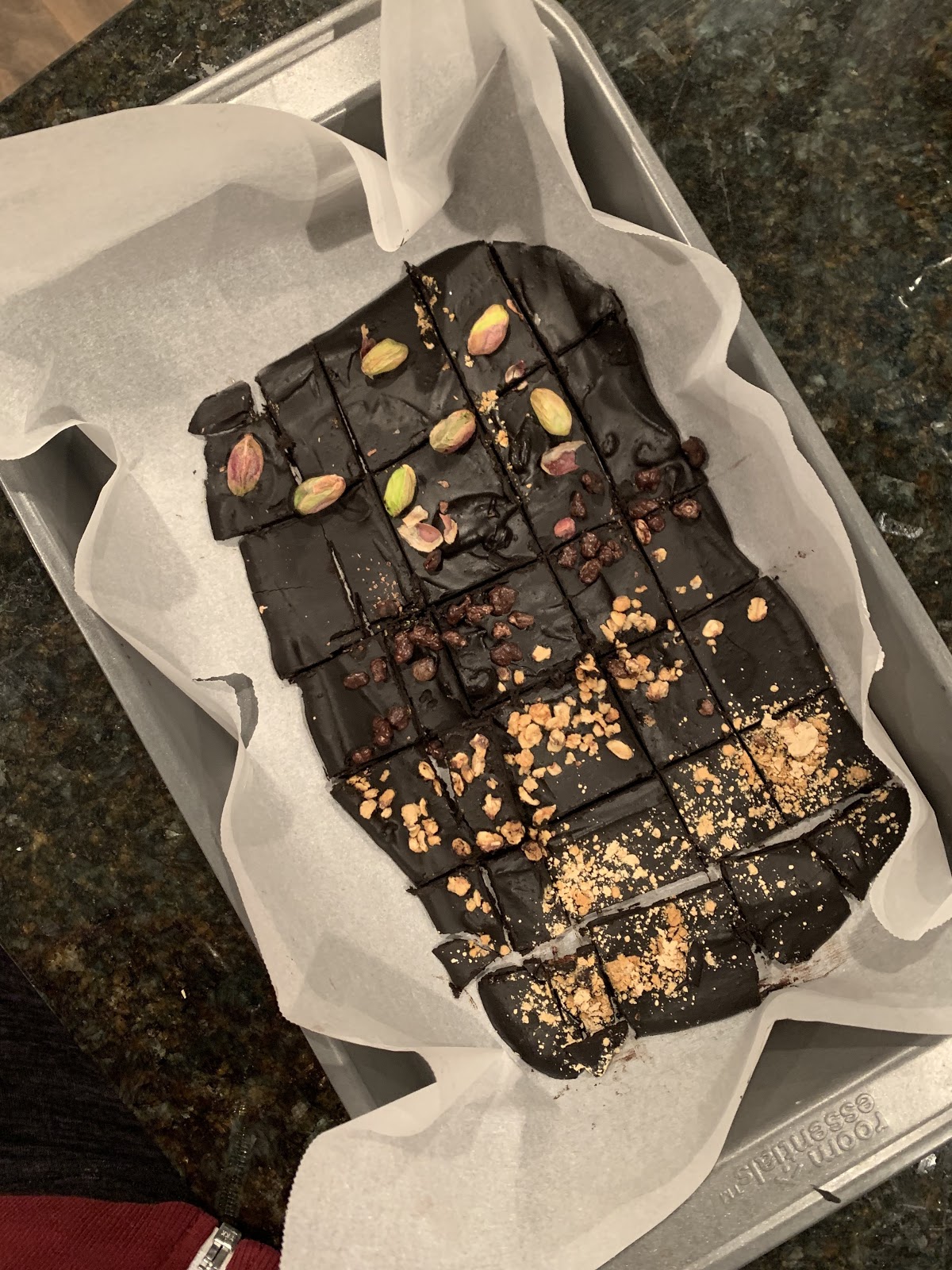 Even though these are LOW cal, they are HIGH fat. Therefore, just like anything, you can easily over do these. Especially being high fat, you want to be smart about consumption! I like to have 1-2 pieces after 1-2 meals a day. Just because they use "healthier" ingredients does not mean you can or should eat them all. Remember, everything in moderate amounts!
Please, let me know if you try this recipe out, and if so, post to Instagram and tag me! (@mckennahenrie)
-McKenna O